WoWEbony Announces Upcoming Black Friday Super Sale
Shoppers will save 30-40% on premium lace wigs
ATLANTA, GEORGIA, NOVEMBER 20, 2018 - The team at WoWEbony has just announced their highly anticipated Black Friday Super Sale, which is slated to be the biggest sale of the year for the premium lace wig brand.
The WoWEbony Black Friday Super Sale will give shoppers the advantage of 40% off 360 Lace Wigs and 30% off full lace wigs and lace front wigs. All discounts will be applied automatically at checkout, eliminating the need for coupon codes.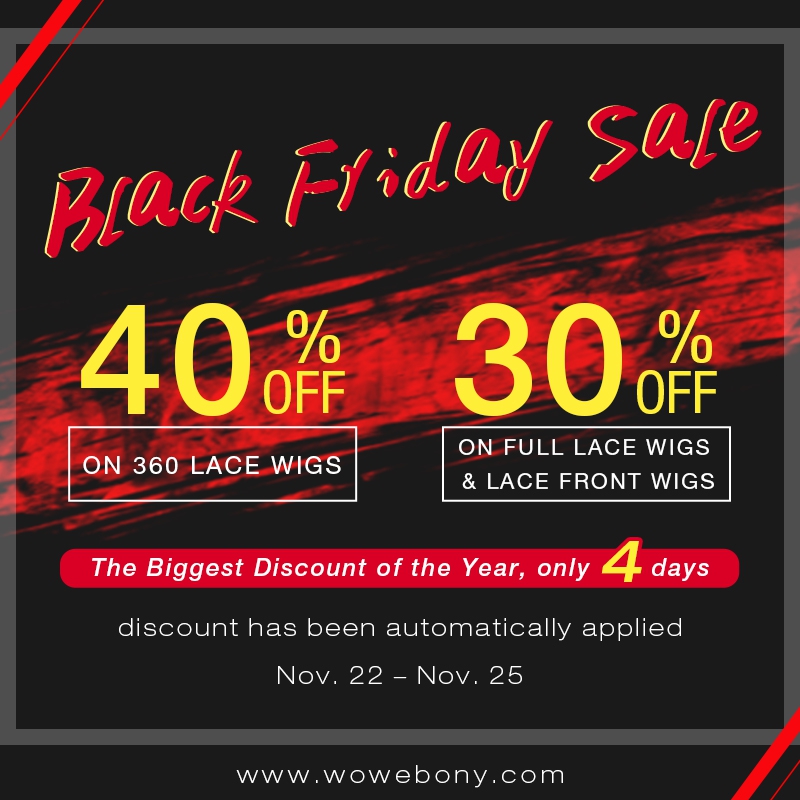 WoWEbony's largest sale of the year will last for just four days, from Thursday, November 22, 2018, through Sunday, November 25, 2018.
Shoppers are invited to see many of the deals in an exclusive sneak-peek video recently published on YouTube. Some of these deals include the Pre-Plucked Yaki Straight 360 Lace Wig for just $91.80 - a 40% discount from the $153 regular pricing.
Fashion Wave Lace Front wigs will be marked down to $86.80 from $124, and shoppers can pick up Pre-Plucked Natural Wave 360 Lace Wigs for just $105, a 40% markdown from $176.
On November 22, shoppers will be able to go to the WoWEbony website and access these special prices.
More information can be found at https://www.wowebony.com/.
About WoWEbony
WoWEbony is dedicated to offering premium, handcrafted hair enhancement products for women of color, including full lace wigs, weaves and weft, hair closure, lace front wigs, and more.