WoWEbony Announces 2018 Pre-Thanksgiving Sale
Highly anticipated sale gives customers an opportunity to receive discounts and a free luxury item
ATLANTA, GEORGIA, NOVEMBER 7, 2018 - WoWEbony has just announced the launch of their highly anticipated 2018 Pre-Thanksgiving Sale, which will give customers the exclusive opportunity to shop with discounts and even receive a free luxury item.
WoWEbony customers will receive $10 off orders over $139 with code TKS15 and $20 off orders over $239 with code TKS20.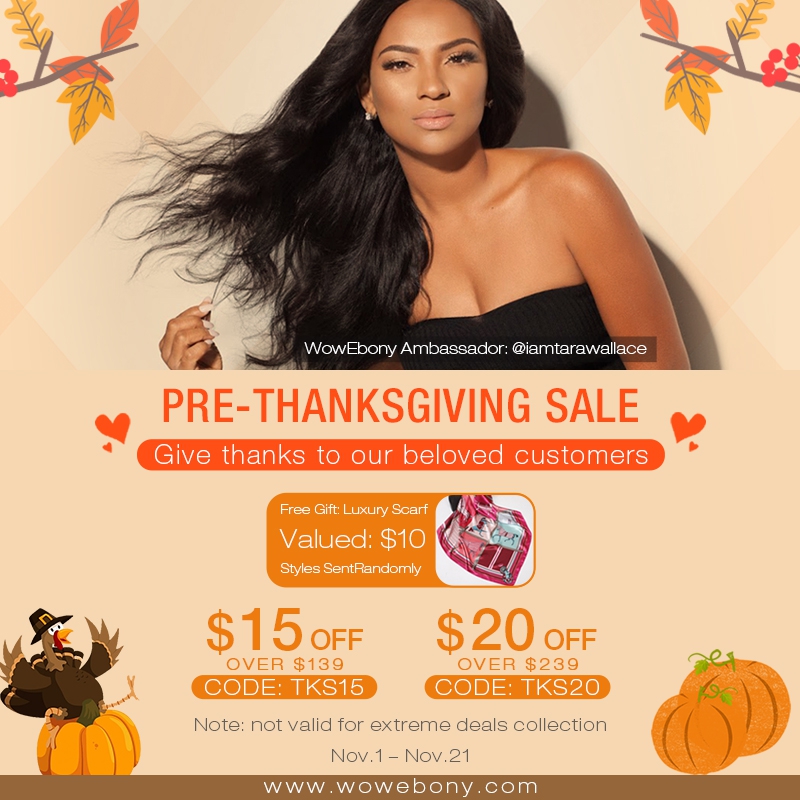 In addition, customers will also receive a free luxury scarf with their orders. There are a number of styles available, and the WoWEbony team will hand-pick a style for each order.
At WoWEbony, customers can peruse a wide selection of high quality and affordable full lace wigs, 360 lace wigs, lace front wigs, weave and weft, hair closure, and accessories.
WoWEbony has continued to gain loyal customers since its launch thanks to its quality products, exceptional pricing, and world-class customer care. The company has hosted and sponsored numerous events in Atlanta, Los Angeles and New York, which has helped to champion local customers, and WoWEbony has also managed to reach women all over with their leading-edge online shopping experience.
The 2018 Pre-Thanksgiving Sale gives WoWEbony an opportunity to thank their valued customers for continuing to shop with them. Customers can enjoy sale prices through November 23rd. More information, including full details on the Pre-Thanksgiving Sale, can be found at https://www.wowebony.com/.
About WoWEbony
WoWEbony is dedicated to offering premium, handcrafted hair enhancement products for women of color, including full lace wigs, weaves and weft, hair closure, lace front wigs, and more.